NRS
NRS is NovaTel's state of the art, SIP Redirect Server. Based on RFC 3261 it can be used as a routing server for any SIP Network. The NRS Server can be easily integrated with any switchsupporting RFC 3261 30X based Redirect.
In the past, large amounts of routing data were required to be uploaded to the switch to effect routing. This put undue load on the switch and was very time consuming. With NRS, uploading of bulk data to the switch is no longer required. This reduce the load on the switch. Also provision of huge amounts of routing data to NRS is extremely fast, resulting in routing changes being effective almost immediately.
NRS is a part of Control Centre Suite and integrates seamlessly with Planner Module for generating LCR Plans.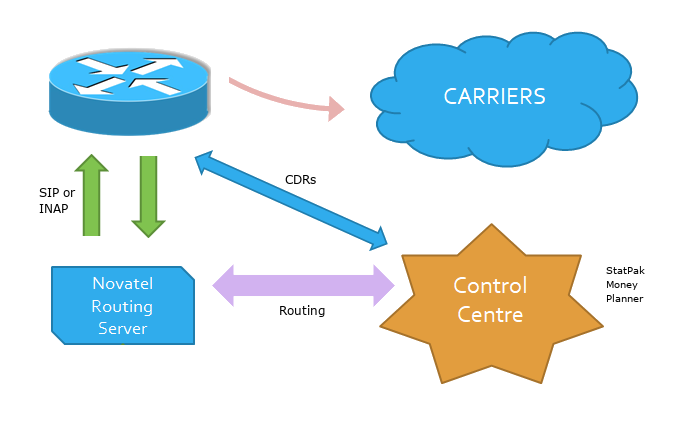 Never again miss out on hot offers from your suppliers when immediate route change is required.
Never again worry about loss making calls.
Never again feel limited by your switch. With NRS there is no limit on number of dial-code breakouts, routings and LCR plans.
NRS Benefits:
Super-fast Routing Updates
Reduces Load on the Switch
Operates on standard hardware
Fast, Robust and Reliable
High Availability
Fully Scalable
High Performance
Standards Based for interoperability
Unlimited LCR Plans
Unlimited number of routes
Unlimited dial-code breakouts
Easy integration to SIP compliant switch
Zero cost integration
Failover and redundancy built in
Block negative margin calls
NRS Features:
250 Call Attempts per second/per NRS server
Standard Routing
Percentage Routing
Percentage Routing with back up carriers
Optional prevention of negative margin routing
Multiple Route Plans
No limit of number of routes
Unlimited dial-code breakouts
Seamless integration with Control Centre
Real Time logging
Standards Based
Web based rich client GUI for easy access
Standards Based for interoperability
Failover and redundancy built in
Web GUI for route trace capability
Detailed call logging
High Availability
Fully Scalable
Additional content:

NRS brochure

NRS SIP Redirect Messaging A1