Planner
Based on the business rules and state requirements such as lowest price, best quality, price and quality combinations, Planner analyses all the tariff sheets from all the carriers and produces the optimum route plan.
This analysis can help identify additional margin opportunities, along with increased control of the quality of the network, which in turn leads to improved customer satisfaction. This saves time and money, it helps reduce errors and helps maximise margin. Planner can cater for different routing plans within the same network. Planner can also be set up so that your interconnect partners can load their tariff sheet information directly to the application themselves, again saving you more time and easing the whole process of loading route and rate data.
Without automated tools, carriers find themselves using excel to deal with large amounts of rate sheet data from carriers to create routing plans. This can take days to produce a plan and is very prone to human error. Planner eliminates all of this hardship. It only takes a matter of minutes to produce a well formed and optimal routing plan.
Destinations, dial codes and rates can be viewed together in one unified view. Sophisticated analysis of dial code mappings detail the full range of overlap types and allow operator to avoid potential threats and exploit available business opportunities.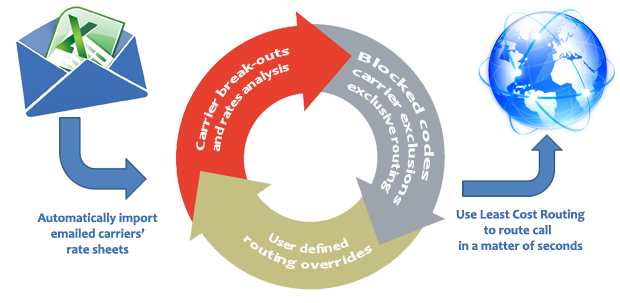 PLANNER Benefits:
Complete control over routing, even down to specific phone numbers
Enables rapid response to changing market conditions
Significant reduction in cost of termination
Increased Profitability
Optimises your margins on voice traffic
Eliminates negative margins
Improved quality of phone calls
Deep analysis of supplier codes to alert to threats and take opportunities
Minimises human error
Better utilization of limited resources
Lowers Operational Costs
Reduces manual effort
Intuitive user friendly GUI
Planner integrates smoothly into the rest of Control Centre
PLANNER Features:
Automatic generation of routing plans
Creates routing plans governed by user defined business rules
Business rules can include price, QOS, network topology and capacity
Preview of route plans before implementation
Standard and Percentage Routing
Include/exclude suppliers and destinations from any plan
Manual override available to force routing
Easy drag and drop control of routing
Full Overflow configurability
Generate future route plans
Dial Code Management and Analysis
Configurable Excel Readers handle diverse carrier rate sheet formats
Automated importing of Supplier Rate sheets
Ready visibility of increases and decreases in new supplier rate sheets
Supplier rate data can include effective period for a rate
Web based rich client GUI for easy access
New supplier rates are automatically checked against current routing and user informed of new routing opportunities
Full error and sanity checking of imported rates
Easy rollback of wrongly imported rate sheet data
Unified views for simplified price and dial code analysis
Predict effects of pricing changes on future routing plans
Routing automatically updated to the switch through Switch Adapter
Full control over Trunk / Carrier traffic distribution
Full auditing of all routing plan changes
Multiple Currency Support
Automatic upload of current exchange rates
Additional content:
Introduction to Planner

Planner brochure